| | |
| --- | --- |
| Posted by ericlee on May 29, 2013 at 3:40 PM | |
Jim Morrison Cobra Necklace/1967 photo shoot necklace updated with modern refinements and genuine old school vibe. I have taken my original 1967 Jim Morrison snake necklace and made some modern refinements to it in order to provide an even more superior necklace when compared to all others. So why is this necklace so special? Well let me tell you. I have spent a great deal of time refining the original cobra necklace and looking for ways to make it better. Ways to make it more durable and ways to make it last longer without compromising the quality and integrity of the necklace. I can say without a doubt that I have! Don't get me wrong the original version of my Jim Morrison Cobra Necklace is spot on perfect but I just wanted to make it better.
I have hand aged the white beads to a slightly darker white. My aged white beads are not available anywhere in the world. I am the only one who is doing this. I use a special 49 strand bead wire that is extremely flexible and seemingly unbreakable(Not fishing line!). The wire expensive but worth the price for this necklace. I use an antique barrel clasp to add to the vintage vibe of this awesome necklace. The necklace is 30 inches in length just as Jim's famous beaded snake necklace was and fits over the head easily. Custom lengths are available upon request.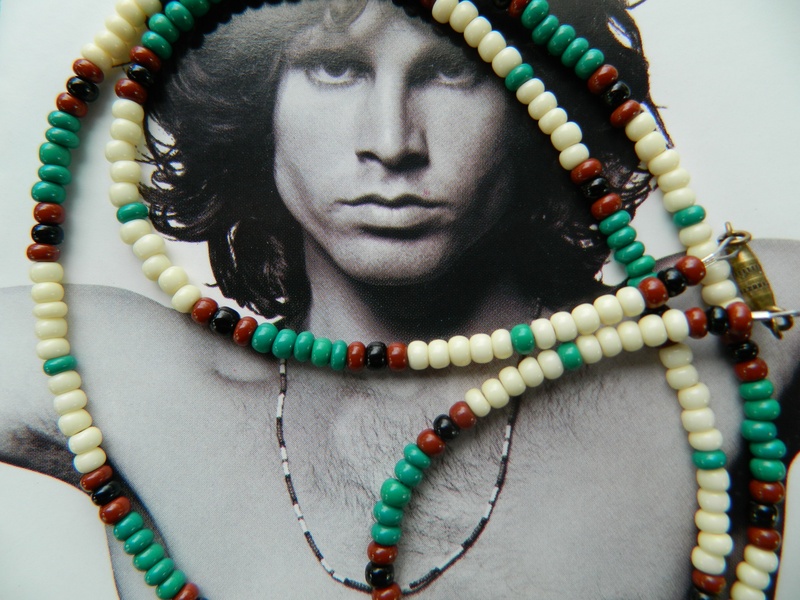 Categories: None