| | |
| --- | --- |
| Posted by ericlee on March 12, 2013 at 12:10 AM | |
 So I am creaping up on the 20 year mark of handcrafting the Jim Morrison necklace. I was just a teenager when I started making this necklace way back in the 1990's. When I say Jim Morrison necklace I mean the young lion photo shoot necklace from 1967 or what I have come to call the Jim Morrison cobra necklace, a term that I have now trademarked. So lets get to it. The quality of beads that were used back in the 1960's and even earlier than that in my opinion are not as good as the beads I use today nor is the chord that was used. I have accumulated some czech beads from that era and the consistancy and quality just is not there when compared to today's beads and chording.
 Most beaded necklace's from the 60' and 70's used a cheap beading chord or fishing line. If you were lucky maybe you had some triple braided wax coated chord which is still used a lot today. I do not use it, I only use the best beading chord and I now even make my own chord that I use for all of my necklaces. I use a PAF braid and a combination wax coat system which gives me and ultimately my customer the strongest bead chord available in the world today. Now for the beads. I have had my hands on millions of beads. All different shapes sizes and origins. I can honestly say that the beads coming from Czechoslovakia are amzing when compared to their 60's counter parts. Their shape, size and uniformity is nothing short of amazing and they are what I use and only use. and will ever use.
 Was Jim Morrison's necklace made from czechoslovakia seed beads? The answer is yes. Were the beads strung on a high quality chord? The answer is probably not. The shape and consistency of the beads used was also lack luster. I have studied the young lion photo's for hours on end and have come to the conclusion that if you compare my Jim Morrison cobra necklace next to Jim Morrison's necklace you will see that they are the exact same necklace in every way except for the fact that my necklace has a quality and craftsmanship that was lacking in 1967. The image below speaks for itself.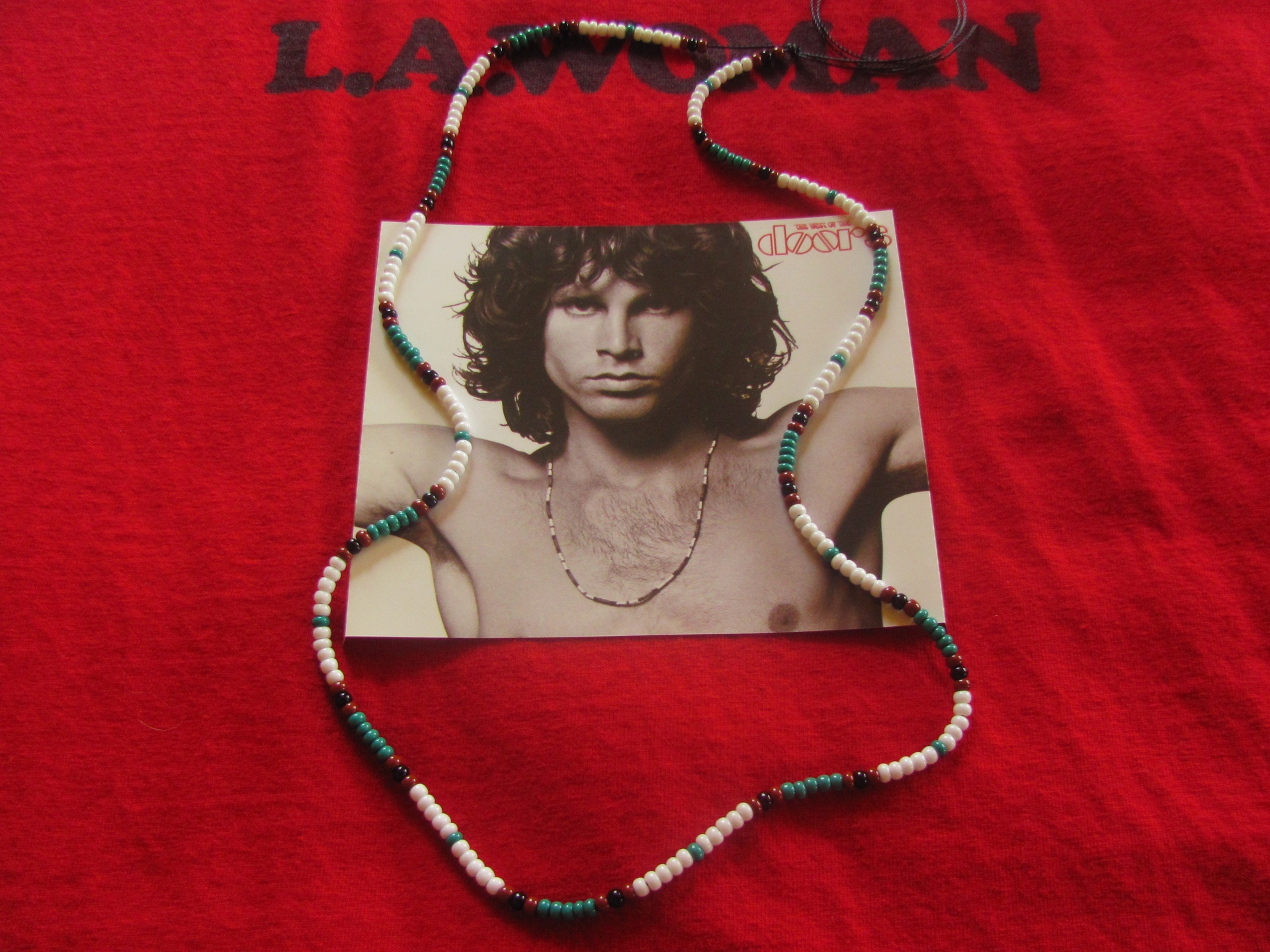 Categories: None